Venelin Shurelov's bizarre and phantasmic object-performances challenge anyone who attempts to classify his work within the boundaries of a single medium, form, or a discipline. Always site-specific and often staged at various public locations, his "phantomats," "drawing machines," and complex eclectic pieces—involving video, new technologies and old mechanics, found objects, images, sound, the artist's body, and the imagination of the audience—are situated on the border between the human and the technological, the real and the imaginary. Always dependent upon the viewer's invervention, they are marked by an interactive communicativity and unpredictability that challenges dichotomies between subject and object, self and other, artist and audience, process and product. Working in the space between performance, music, installation art, and image-making, his process-oriented work invokes the spirit of Dada and Fluxus to not only defy disciplinary conventions but also to constitute a form of practice that critiques the commodifying mechanisms and dominant institutional forms of the contemporary arts.

Zhivka Valyavicharska, 2009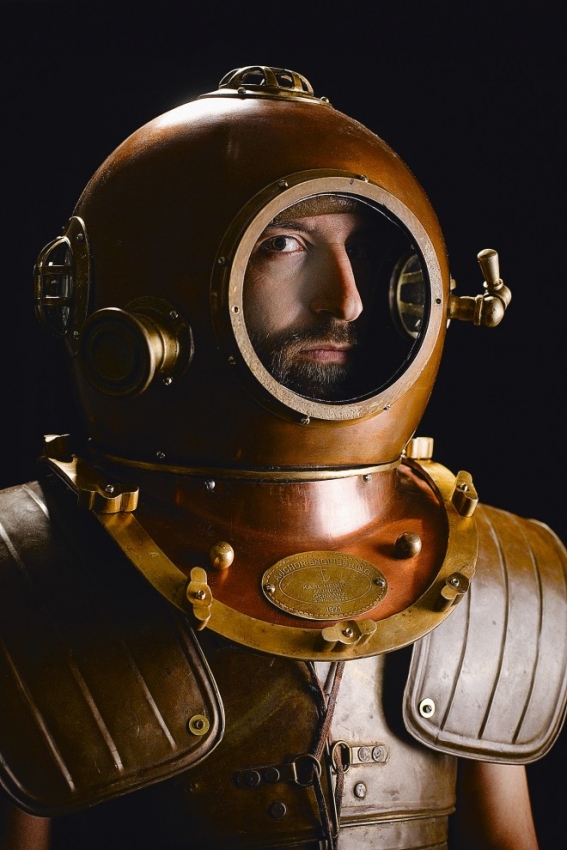 Venelin Shurelov is known as a multifunctional persona, who combines his artistic calling with a vocation for stage design, teaching, curating, organising festivals, designing museum spaces, etc. His artistic output is considerable and varies in terms of genres and forms; the overarching theme of his pursuits, however, remains the individual's place within a technological world, the hybrid form between human and machine, and the often intriguing results of their interaction. His works are poetic and often metaphoric; they are directed at human desires, utopias, emotions and social behaviour in the technological epoch.
Venelin Shurelov's first projects were land-art installations, performances and conceptual interventions. His engagement with the natural environment and raw materials can be related back to his secondary education at the Woodwork High School in the city of Tryavna, as well as to his study of Stage Design at the National Academy of the Arts in Sofia. We should pay attention to references to the Fluxus movement, Joseph Boys, Hamish Fulton, Richard Long and others – all land- and conceptual art pioneers, who exerted a strong influence on the generation of Bulgarian artists that came of age in the late 1990s. Fulton's tradition of walking, Boys' conceptual performances, Long's geometrical figures made of natural materials, all ignited in Shurelov, along with many of his colleagues, a strong creative impulse.
The artist's early creative forays are also tied closely to his familial circumstances. His father, Iliya Shurelov, is a self-taught woodcarver and educator, while his family owns a house in the village of Yasna Polyana, where popular plenaries on woodcarving took place throughout the 1980s. The village itself is an interesting and spiritual place, which used to host a small colony of Tolstoyans in the beginning of the 20th century. It has its own magical energy and creative atmosphere. This is why, at the end of the 1990s, Venelin Shurelov and his sister Nadezhda Shurelova (who is also a painter and designer) decided to restore the tradition of woodcarving meetings, discontinued in 1989. This time around, they went with a new format and a wider spectrum of arts and genres, reinventing the meetings as a symposium for the plastic and performing arts. At first called 'Alan Kairiak' (the village's old name) and then renamed to 'Via Pontica' (after the migratory path of birds Via Pontica), the annual symposium lasted for five years between 1998 and 2003, attracting mostly young artists with an interest in the fields of land art, photography, performance and artistic interventions.
Serbian colleagues joined the Symposium's edition in 2002, laying the groundwork for the collaboration that followed. Members of the art collective were invited to participate in the Student Cultural Centre's (SKC) prestigious 'Aprilski susreti' (April Meetings) festival in Belgrade. It used to be an important meeting place for Serbian conceptual artists such as Raša Todosijević, Marina Abramović and others. The Bulgarian artists presented mostly documentary materials from the Yasna Polyana symposium but also staged a public art performance called 'Via Shoes', in which participants walked on peculiar constructions made of wood and left a trail of footsteps which visualised their trajectory.
This is how the 'Via Pontica' art collective came to be, featuring Nedko Zhechev, Rin Yamamura, Vesselin Mitev, Hristo Hristov, Zlatil Yotov, Ana Vilenica and Venelin Shurelov. A little while later, an association of the same name was founded. They ran a few projects together, which reflected their artistic pursuits at the time: the body as an artistic object and as an instrument that can be transformed and mutated (often unconsciously so); the search for the primary instinct; the breaking loose of the (bodily) experience. Walking as art constituted a central point of departure and the group experimented with it as a form in its performances. Its next project, 'Via Sfera', was a performance for an urban setting with poetic and philosophical inspirations and embodied this concept to an even greater extent. The group's participants moved across the urban landscape within semi-transparent hand-crafted spheres. Thus, they transformed the act of walking into a kinetic sculpture; they turned walking into sailing.
Ana Vilenica held an important role within the group. She is a graduate in History and Theory of Art from Belgrade, has interests in the field of contemporary dance and performance, and works precisely in this field. Vilenica and Shurelov discovered common conceptual interests and started collaborating extensively, creatively and romantically. For a time, Vilenica constituted a prominent presence within the artist's work. She was actively involved in the development of the SubHuman Theatre concept, and even performed some of the label's first projects. Vilenica embodied the idea of SubHuman and introduced a strongly introvert and complex thought construct into its design. Their relationship proved relatively short-lived, but Shurelov continued to develop the initiative further, which can be described as his 'label', and turned it into a research platform and a site for contemplating questions and themes of importance to humankind.
Shurelov's work is full of philosophical references to existential topics; these were already a feature of his early works, but are invariably present as a more complex conglomerate in his later career. Venelin Shurelov is that rare kind of strongly reflective artist, for whom the artistic act is a multi-layered reflective process, drawing ideas and inspiration from prominent intellectuals and philosophers; it passes through its own prism of rationalisation and transference into the abstract field of art, resulting in a singularly powerful conceptual work, which at the same time retains its visceral impact on its audience.
SubHuman Theatre is thus an emanation of the philosophical-existential contemplations of the artist and of his interpretation of the increasingly technologised existence of the contemporary human. There, primal human values are set against the search for the sub-product, which can be extracted from the multitude of situations and conflicts that an individual would come across in the modern world. There is a focus on the conceptual and the reflective, but visual aesthetics are not underestimated either - they never fall victim to the complex thought constructs that dominate the process, but rather lead to a synthesised and highly detailed form. Venelin Shurelov is one of those artists who manage to produce their own visual code that makes them recognisable in each and every one of their works. This is a feature of mature artists who have carved their own path and who walk down it in a confident and steady manner.
Shurelov's particular style is most obvious in his drawings, which act as visual diaries of the artist's states and reflections. Strongly stylised, they turn into a code that strongly informs the drawings comprising the 'Drawing Machine' installation, especially the 'Homo Prolapsus' series.
The stylised character is also recognisable in a famous public art installation, which was displayed on the façade of Sofia's Theatre Laboratory Sfumato. 'Homo Ludens' is an expression of the highest form of human civilisation: the human at play, who has overcome material and physical constraints in order to reach the real essence of existence – that is, play.
Indeed, the idea of play is present in many of the artist's works: 'Terma 30', 'DORA' lamp 1.0, 'DORA' lamp 2.0 and other humorous installations, all provoke the audience to interact with the object. In 'Terma 30' the figure of the artist himself turns into an object. He passes through different comical states while the viewer 'plays' with the oven's switch. 'DORA' lamp is an unexpected and funny interaction, altering the utilitarian object's function in today's alienated and commercialised world.
The bold and free handling of different media is characteristic of the artist. He often combines several elements and weaves them into various artistic forms and approaches, thus creating multi-genre, inter-disciplinary or multi-media works, frequently the product of collaboration with a team of friends and fellow artists who actively contribute to their realisation. Venelin Shurelov's projects can sometimes be challenging to realise. Machines, installations and performances follow the artist's complex conceptual background, yet retain a coherent, finished quality when transferred into the material world. Many of Shurelov's machine installations bear the traits of the Steampunk aesthetic and thematic scope. The retro-style is combined with high technology and brings to life peculiar mechanical forms that astound, but also provoke the audience to re-examine their concept of humanity's past and future. Fantomat, Orthoman, Man ex Machina and Drawing Machine are all works in this line of thought.
This style is at its peak in the 'Post-Everything' performance-installation, a multi-layered composition of antique objects combined with high technologies, that give birth to post-apocalyptic and post-utopian creatures searching for their place and existential meaning in times of 'post-everything.' This is a project in tandem with Elitsa Georgieva, a stage design artist and frequent collaborator of Shurelov, as well as his life partner.
Venelin Shurelov's projects are slightly theatrical – but this is absolutely natural and can be explained with his professional work as a stage designer, on the one hand, and with the artist's conceptual pursuits via the SubHuman Theatre platform, on the other. It is, however, a 'pseudo-theatrical structure', one which is actually a 'combination of reflection and empathy'. It searches for the 'forgotten humanity' using the artist's own body as a means of expression.
'Tabula rasa' is a work in which intention leaves its own limits behind. The core idea of leaving one's own body reaches its resolution in the artist's decision to offer his own body as a site of expression for the viewer. Each of the several editions of the performance-installation has brought a renewed sense of surprise but also of exaltation by the opportunity to write or draw something on the artist himself – as if on a white canvas.
The overcoming of the ego and the corporeal limitations is also the focus of the 'Rotor' performance. There, the artist becomes one with a kinetic-mechanical construction, thus forming a hybrid – created by the human but following the machine's will.
In summary, this book is an immersion into Venelin Shurelov's artistic world. Anyone who crosses the threshold of doubt and overcomes the fear of alienation, will see that the artist is not difficult to comprehend. He might be disturbing, even frightening in the depths of his reflectiveness, his complicated linguistic structures or grim aesthetic of the monstrous. How deep the reader chooses to delve into his world, however, is entirely up to them.
Galina Dimitrova-Dimova, 2018