Rotor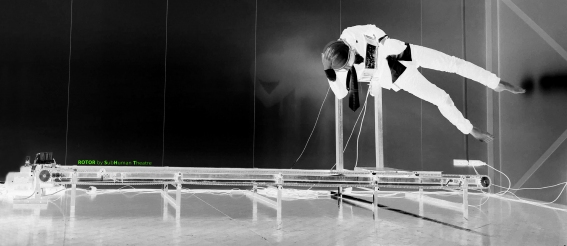 "ROTOR" is a Performative Automatic System (PAS).
Duration: 40 minutes
Team:
Venelin Shurelov – idea, organization, technical adaptation, light design, video projection
Borislav Tonev (Buki) – Mechanics
Synopsis:
The figure is a body of the gesture, partially closed by function, partially liberated by fiction.
I situate my two-phase intervention in the in-between space of performance and installation. Its first part begins with an empty stage on which I build a device before the eyes of the audience – a complex electro-mechanical kinetic system. The second part unfolds in the last five minutes of the performance and demonstrates the definitive fusion between my body and the built structure. The hybrid body formed this way moves according to the rules of automation, while also remaining immersed in a fictional world.
Premiere as Installation Art Work, part of Mobile Studios Project:
16.04.2016 – Radomir, Ihtiman, Samokov
Premiere as performance:
03.07.2016 – 'Small Season Fest', Theatre Laboratory SFUMATO, Sofia (Bulgaria)
The project is presented at:
29.09.2016 – 'Night of Museums', Plovdiv (Bulgaria)
05.11.2016 – 'Intermedia Body', ARS Electronica Center, Linz (Austria)
14.11.2016 – 'DNA - Center for Contemporary Dance and Performance' in the frame of 'ACT' Independent Theatre Festival, Sofia (Bulgaria)
06.06.2017 – 'Varna Summer' International Theatre Festival, Varna (Bulgaria)
21.04.2018 – NOVA Fest, Bucharest, Romania
Nominated for the Icarus Prize 2017 in the category 'Contemporary Dance and Performance'
Video trailer: